FONODAN 900 HS.
Two-layer membrane for rigid elements and impact sound insulation
EPD S-P-04340
FONODAN® 900 HS is a two-layer product consisting of a high density membrane and a chemically cross-linked polyethylene thermo-welded to it, finished with a thermo-welded geotextile.
Installation video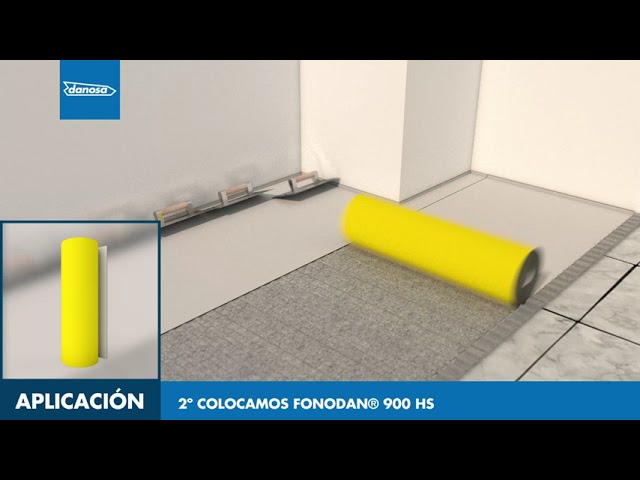 Scope
Specially designed for the improvement of impact noise insulation in renovation works with the direct bonding of ceramic floor tiles.
It allows for the creation of a floating system with ceramic tiles.
Advantages & Benefits
High resistance to crushing.
Provides the sensation of buoyancy in ceramic tiles that imitate wood in new construction and renovation, making the imitation more real.
Vapour and dampness barrier.
Good insulation against impact noise in low thickness and weight, ΔLn = 23 dB.
It is inert to attack by micro-organisms, ensuring its durability over time.
Easy to install.
High resistance to tearing.
Due to its low height, it allows for the acoustic renovation of old slabs without the need to remove the floor.
Substrate preparation
The support must be clean and free of foreign objects.
Floor unevenness of more than 3 mm in lengths of 1 m must be levelled out beforehand with levelling paste depending on the required thickness, for thicknesses of less than 10 mm ARGONIV® 020 Elite and for thicknesses of more than 10 mm ARGONIV® 120 Elite.
CINTA DE SOLAP shall be used at any joints with pillars, walls or installations that protrude above the floor before FONODAN® 900 HS is laid.
Instruction for Use
Preliminary operations
Before starting work, it must be checked that:

The substrate must be clean and free of foreign objects.

SEALING TAPE must be used at the joints with pillars, walls or installations that emerge from the floor before laying Fonodan HS.

Laying FONODAN 900 HS
Spread a thin layer of Argocola Elite 500 on the slab.

Unroll the FONODAN 900 HS with the exposed side of the geotextile and press lightly onto the Argocola.

The joint between the rolls should be flush, cut to the required size with a cutter.

It is advisable to seal with rough adhesive tape to give continuity to the insulation and prevent the passage of dampness.

Apply Argocola Elite 600 type cementitious adhesive (adding % of water so that the material acquires a suitable consistency and workability) directly on the product and place the ceramic pieces with the spacers to square the different pieces.

Apply Arjunt Universal mixed with latex resin (for each Kg of Arjunt, 140g of resin (latex) must be added and add % of water so that the material acquires a suitable consistency and workability) to cover the joints.
Handling, storage and preservation
Store in covered and ventilated places that comply with current legislation regarding storage.
Consult the product safety data sheet.
According to the EEC directives on labelling hazardous substances (GefStoffV), special labelling is not required.
The product is considered not hazardous for transport (ADR, RID, UN, IATA/ICAO)
The product, as such, is not classified as hazardous for transportation.
Under normal conditions, the product is not hazardous.
In application, the appropriate measures must be taken when handling tools.
In all cases, the Occupational Safety and Hygiene standards, as well as the standards of good construction practice, must be taken into account.
Stable at room temperature. Avoid being at temperatures above 80ºC as that would alter the material's properties, accelerating its degradation.
Waterproofing work should not be carried out when the ambient temperature is lower than +5ºC for hot air welding.
No personal protection is required during transportation and handling.
For further information, please contact our Technical Department.
Notice
The information contained in this document and any other advice provided, are given in good faith, based on DANOSA's current knowledge and experience when products are properly stored, handled and applied, in normal situations and in accordance with the recommendations of DANOSA. The information applies only to the application (s) and the product (s) to which reference is expressly made. In case of changes in the parameters of the application, or in case of a different application, consult the DANOSA Technical Service before using the DANOSA products. The information contained herein does not exonerate the responsibility of the building agents to test the products for the application and intended use, as well as their correct application in accordance with current legal regulations. The product images used in our communications are indicative and may differ slightly in color and aesthetic appearance in relation to the final product.Orders are accepted in accordance with the terms of our current General Sales Conditions.DANOSA reserves the right to modify, without prior notice, the data reflected in this documentation.Website: www.danosa.com E-mail: info@danosa.com Telephone: +34 949 88 82 10
Presentation
Length (cm): 1000
Width (cm): 92
Thickness (mm): 3.9
Thickness (mm) ~ Standard: EN 1923
Ml / palet: 23
Surface (m²): 9.2
Logistic class: (C) Products usually in stock, maximum availability in less than 7 days
Product code:

610203
Technical Data
| Concept | Value | Standard |
| --- | --- | --- |
| Capillarity | 1 | - |
| Coefficient of linear thermal expansion (mm/m·K) | 1 | - |
| Thermal conductivity declared (W/mK) | 0.07 | EN 12667 |
| Thermal conductivity of cross-linked polyethylene (W / m K) | 0.07 | - |
| Remainder deformation (24h compressed at 50%, 23ºC) (%) | 0.040 | EN 1856 |
| Acoustic test IL (I) | <35 | < 10 |
| Ensayo acústico Lnw (I) | 23 | DANOSA DAN-900-HS01 |
| Acoustic test RA (I) | EN 3386-1 | DANOSA DAN-900-HS01 |
| Insulation thickness to be fixed (mm) | 3,9 | - |
| Water diffusion factor, μ | > 20000 | EN 12086 |
| Nominal mass (g/ml) | 147.2 | EN 1849-1 |
| Mass per unit area (nominal) (kg/m²) | 2.3 | - |
| Impact noise enhancement ΔLn (dB) | 23 | EN 140-8 EN 717-2 |
| Mejora del nivel de ruido aéreo entre placas, ΔRA | >3 | EN 1923 |
| Pérdida de Inserción; IL (dBA) | UNE EN 12311-1 | - |
| Reaction to fire | F | EN 13501-1 |
| Compressive strength at 25% (kPa) | > 35 | EN ISO 3386-1 |
| Longitudinal tensile strength (N / 5cm) | >600 | - |
| Dynamic stiffness (MN/m³) | EN 823 | EN 29052-1 |
| Hazardous substances | PND | - |
| Work temperature (ºC) | F | - |
| Thickness tolerance (%) | +/- 0,2 | EN 823 |
| Tolerance Length and Width (%) | 1 | EN 822 |
| Hysteresis work (Nm) | > 35 | EN 3386-1 |
Environmental Information
| Concept | Value | Standard |
| --- | --- | --- |
| Volatile organic compounds (COV's) (µg/m³) | 15 | ISO 16000-6:2006 |
| Content of recycled raw material (%) | 14,4 | - |
| Recycled content before the consumer (%) | 100 | - |
| Manufactured in | Fontanar (Guadalajara) España | - |
| Performance in photocatalytic purification of nitrogen oxides (%) | 3.9 | - |