REVESTIDAN INDOOR
Elastic membrane for waterproofing windowsills, balconies, parapets, bathrooms, kitchens and interior wet areas.
One-component elastic liquid membrane, to protect and waterproof vertical and horizontal surfaces, prior to the installation of a final coating.
Installation video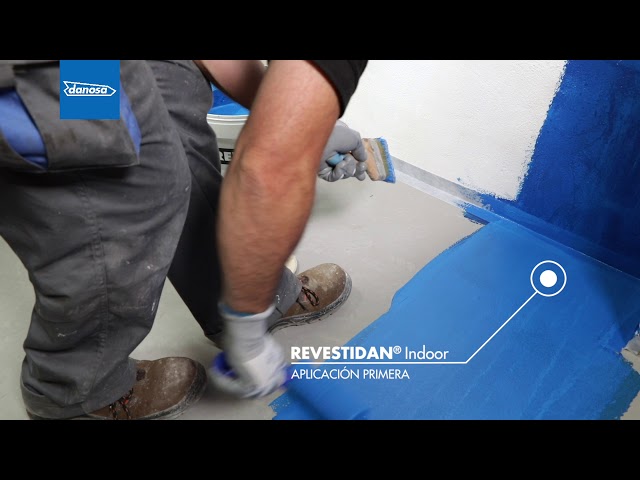 Scope
Wall waterproofing, before applying the final coating.
Waterproofing of paving before laying the final coating: bathrooms, showers, kitchens, etc.
Advantages & Benefits
Good adhesion to the substrate even on wet surfaces.
Good adhesion of the cement-based adhesive to the product, for laying the final coating with an initial bond strength of 1.3 N/mm², with cohesive breaking of the cement-based adhesive.
Good resistance to alkalinity.
Excellent elasticity, effective in bridging cracks in the substrate up to 3.42 mm.
Easy application.
Continuous seamless waterproof membrane.
Support
Marine plywood.
Laminated plasterboard.
Gypsum plasters.
Cement-based substrates
Instruction for Use
"Before applying the product on the substrate, make sure it is dry and clean of solid remains and irregularities.

Apply by roller or brush.

First repair cracks and apply DANOBAND® Butyl in the corners. On very porous substrates it is recommended to apply a primer coat of DANOPRIMER® W or REVESTIDAN® Indoor diluted 1:1 with water.

Once the first coat is dry, apply successive coats of undiluted product. A minimum of two additional coats is required. Wait until dry before applying the next coat.

Drying time between coats is approximately 3 hours and will vary depending on temperature and humidity. After applying the last coat, wait 24 hours to 4 days, depending on temperature and relative humidity, before applying the final coating."

Warning
Clean tools with water right after finishing. If there is solid dirt, we recommend scraping it off.
Do not use on continuously flooded surfaces, swimming pools and tanks.
Protect from sunlight. It must always be under a liner.
Handling, storage and preservation
Store the product between 5°C and 30°C for a maximum period of 24 months.
Notice
The information contained in this document and any other advice provided, are given in good faith, based on DANOSA's current knowledge and experience when products are properly stored, handled and applied, in normal situations and in accordance with the recommendations of DANOSA. The information applies only to the application (s) and the product (s) to which reference is expressly made. In case of changes in the parameters of the application, or in case of a different application, consult the DANOSA Technical Service before using the DANOSA products. The information contained herein does not exonerate the responsibility of the building agents to test the products for the application and intended use, as well as their correct application in accordance with current legal regulations. The product images used in our communications are indicative and may differ slightly in color and aesthetic appearance in relation to the final product.Orders are accepted in accordance with the terms of our current General Sales Conditions.DANOSA reserves the right to modify, without prior notice, the data reflected in this documentation.Website: www.danosa.com E-mail: info@danosa.com Telephone: +34 949 88 82 10
Presentation
Colour:

Blue

Weight (kg):

20

Product code:

724002
Technical Data
| Concept | Value | Standard |
| --- | --- | --- |
| Adhesión al hormigón (N/mm²) | 1,6 | UNE-EN 1542:1999 |
| Solids content (%) | ± 69,5 | - |
| Density (g/cm³) | 1,45 ±0,05 | - |
| Density (kg/m³) | 1 | - |
| Density to 23ºC (kg/dm³) | 1,45 ±0,05 | - |
| Permeabilidad al vapor de agua (g/m²) | 15856 | UNE-EN ISO7783:2012 |
| Resistencia a la presión del agua (1 m.c.a. 24h) | Sin filtración | DIN EN 1928 |
| Tiempo de secado al tacto a 20ºC y 50% H.R (horas) | ± 3 | - |
| Viscosity at 23ºC (mPA.s) | 145 ± 5 | - |
Addtitional Technical Data
| Concept | Value | Standard |
| --- | --- | --- |
| Viscosity Stormer 23ºC (KU) | 145 | - |