Our DURADAN hot melt structural waterproofing is a unique solution which provides exceptional performance for the lifetime of the building. The system includes a specially formulated hot-applied elastomeric liquid compound, which fully bonds to the structure being waterproofed, and is poured through a heavy duty reinforcement layer. The final component, the system cap-sheet which protects and seals the system adds an additional factory-controlled mass of elastomeric compound.
Insulated DURADAN systems use our DANOPREN thermal insulation, which is manufactured from rigid extruded polystyrene (XPS) foam, free from CFC, HCFC, and HFC compounds. The 1250mm by 600mm wide boards are produced using an extrusion process which provides a closed-cell structure, unlike other open-cell alternatives. Some of the major advantages of the DANOPREN XPS insulation are: it does not absorb water; it's breathable; it has a high compression resistance; it's independently tested and certified by leading bodies, such as AENOR and ACEREMI; environmental credentials independently verified with a full EPD; and finally, DANOPREN XPS is full recyclable.
Example DURADAN Systems
A robust default specification for DURADAN hot melt structural waterproofing systems can be shown below. Typically completed with round washed stone ballast covering and paving slab walkways to accommodate any specific access or maintenance requirements.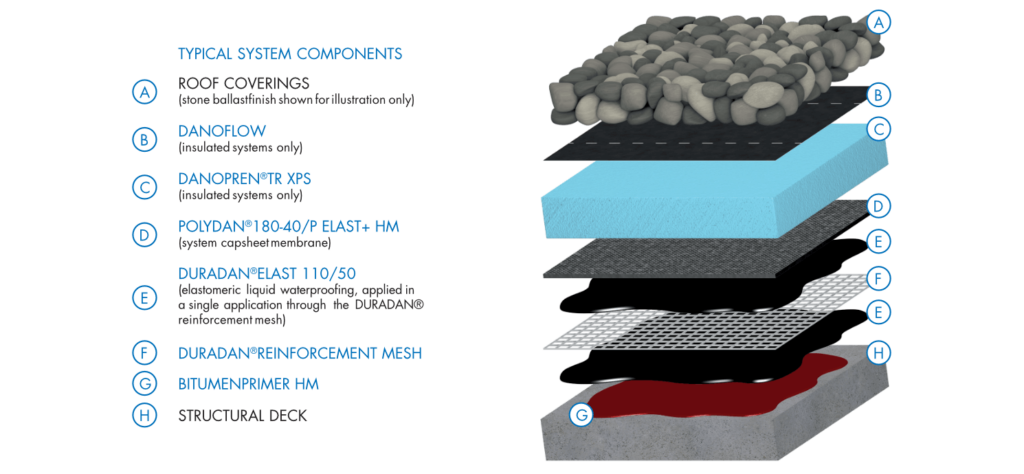 DURADAN for podiums is a popular system for waterproofing above basements and car parks. This system includes a high load resistance XPS insulation, the DANOPREN 500. This specification can be used with a variety of different surfacing options.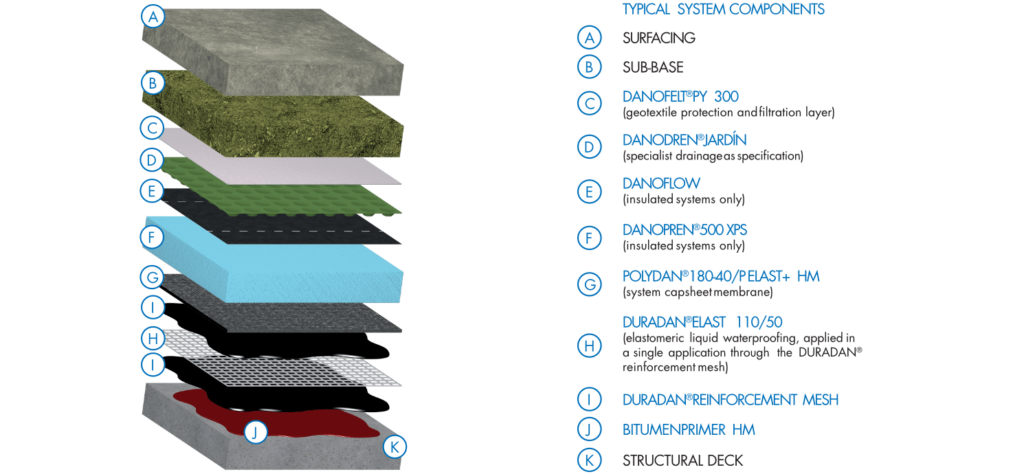 We also have a specification for DURADAN for terraces. In order to make the most of available floor space, enjoyable roof spaces are becoming increasingly popular specification options. DURADAN hot melt structural waterproofing provides a robust waterproofing solution which can be combined with a variety of different surfacing options, including artificial grasses.
For rainwater attenuation, also known as a blue roof, we have a system that controls the rate of rainwater run off, reducing the burden on drainage infrastructure. These systems are not designed to be long-term water storage solutions.
Unlike many other manufacturers, our exclusive DANOSA UK warranty covers all components of the waterproofing system which have been supplied by us – at no additional charge. Our single point warranty provides long term assurance that the systems we engineer are robust and provide the maximum service life possible.
For more specifications, including green roofs and rooftop plant areas, contact uksales@danosa.com or +44 (0) 845 074 0553 for specifications for your next hot melt structural waterproofing project.