DANOTHERM ANCLAJE MECÁNICO
SGR expansion plug for fixing thermal insulation. Certified ETAG 014
Polypropylene expansion plug with a diameter of 8 mm for fixing insulating panels in the DANOTHERM® SATE external thermal insulation system. With approval ETA06-0242 according to ETAG014 for use category B (solid brick) and C (hollow brick).
Installation video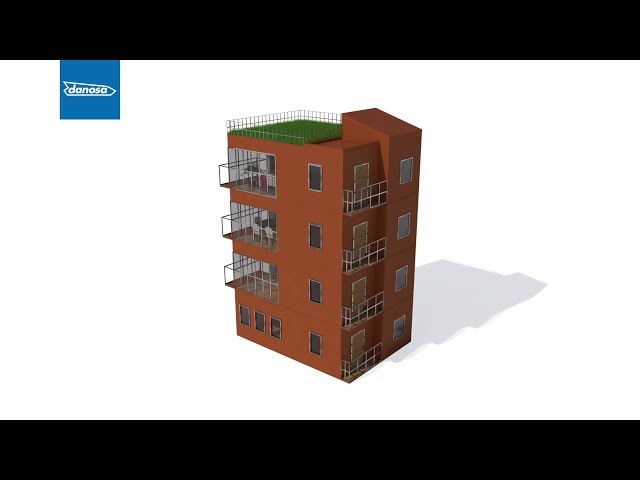 Instruction for Use
24-48 hours after fixing the insulation boards to the facade with the adhesive ARGOTEC® Fixtherm Élite or ARGOTEC® Fixtherm Élite Netzero, drill a hole in the substrate through the insulation board using a drill. The drill bit must have a diameter of 8 mm and the depth of the hole in the substrate must be at least 35 mm, taking into account the adhesive thickness and the depth of penetration into the substrate.
Insert the anchor plug into the hole until it rests on the insulation board.
With the help of a mallet, tap the anchor so that it is flush with the insulation.
Lay 6 pcs/m² in general, for which it is sufficient to place one anchor plug at each junction of two or three insulation boards.
Notice
The information contained in this document and any other advice provided, are given in good faith, based on DANOSA's current knowledge and experience when products are properly stored, handled and applied, in normal situations and in accordance with the recommendations of DANOSA. The information applies only to the application (s) and the product (s) to which reference is expressly made. In case of changes in the parameters of the application, or in case of a different application, consult the DANOSA Technical Service before using the DANOSA products. The information contained herein does not exonerate the responsibility of the building agents to test the products for the application and intended use, as well as their correct application in accordance with current legal regulations. The product images used in our communications are indicative and may differ slightly in color and aesthetic appearance in relation to the final product.Orders are accepted in accordance with the terms of our current General Sales Conditions.DANOSA reserves the right to modify, without prior notice, the data reflected in this documentation.Website: www.danosa.com E-mail: info@danosa.com Telephone: +34 949 88 82 10